"Priti SURI : from Delhi to New York and Paris"
A leading Indian lawyer and mentor for women lawyers


One of Indian's top 100 business lawyers

Admitted to the Indian Bar with experience in the US, Europe and India

Founding and Managing Partner of PSA

President of SOWL India (Society of Women Lawyers)

April 2017: was honored with the prestigious "Mayre Rasmussen Award" for the Advancement of Women in International Law by the American Bar Association in Washington D.C. She is the first Asian to receive this award in its 18-year history.

1/ You have recently been granted the Mayre Rasmussen Award (created by the ABA) for your role as a mentor for women lawyers in India[1]. What does this award mean for you?
Of course, I am delighted with this award, but I have to confess that I have never worked towards any award despite my very long association with the ABA going back to the late 1980s. I feel privileged to follow very intelligent and smart women who have ceaselessly worked very high towards the values the award represents. As the first Asian woman recipient, I feel it is indeed a high honor that the ABA recognizes the ongoing work in India. While a lot of good work is happening in various parts of India by women who may not make headlines, but a lot more needs to be done and, for me personally, that is an area where I want to continue doing.
2/ What is the place of women in the legal profession?[2]
I wish I could say at par with men, but that would be misleading. I think a handful of women are recognized for their caliber and have been elevated to the bench or designated as "Senior Advocates" which is the Indian equivalent of Queen's Counsel. BUT, the numbers are abysmal.
Further, sustainability of women is also a challenge which is linked with, among other reasons, about how to build a practice, develop and retain client relationships. Women are very intuitive but regardless of the commitment to the chosen career, they take time off for marriage and/or children and, like it or not, that does have an impact on the trajectory.
While in India we have the fortune of an extended family support system coupled with domestic help to assist in the upbringing of small kids yet, some women make their choices where, invariably, their careers take a back seat. I would not be presumptive enough to comment on choices. But, where the choice is to remain in the law, often their roles are relegated to mere execution and somehow, they are unable to push the envelope further. There is no institutional support to turn to about "how to" do things, what was right, what was acceptable, how could I do business development. While the education system has definitely undergone a change, yet, most prospective lawyers are unprepared for life with the law. This requires more practical courses and skillful use of interns. And, all of us who are experienced at the Bar need to contribute to bring about that transformation.
3/ What are the hard battles that Indian women lawyers have carried out?
I think Indian women lawyers carry out hard battles daily. As a culture, we do not encourage people to "think" and squirm if a woman is vocal of her choices (and I am not only talking about the law).
I was recently on national TV for a show which was discussing a movie ("Lipstick Under My Burkha") that was disapproved by the Censor Board[3], despite the fact that it won numerous award overseas. I was appalled to see that there were people on the show who thought that it is "anti-cultural" for a woman to focus on her personal wishes and desires and to articulate those wishes. It is the same in the legal profession. At the cost of candor and potentially annoying some people, several women lawyers have told me that many firms ask them to remain in the background. I find that extremely troubling, and unacceptable in the 21st century.  Sadly, women are still at a disadvantage with regard to elevation to equity partner, participation in key firm committees including compensation and executive committees, recognition of their role in business development activities, and equality in pay. There are, of course, successes as well, but those are far and few in between. There are no official statistics available on the number of women who are at the top in their respective place of work – be it court practice, law firms or even those as in-house counsels – but I can vouch for the fact that the numbers are all skewed. Having said that, we have women who are managing partners and run law firms, large and small and work towards  ensuring they strike to break the glass ceiling.
4/ What are the battles that still need to be carried out? 
There is a dire need to focus on professional development, which has to be matched by a desire to grow as well by the women protagonists. Organizations should focus on how to create sustainability for women in the legal profession and strategize on nurturing their careers.
It is really necessary to address the issues from a positive perspective and focus on what women lawyers can and should do to participate in their own success and the success of the women who follow them.
After three decades within this profession, I feel the legal world needs to be more open change and it is my hope that forums like in India "SOWL-India"[4] (Society of Women Lawyers) and in France "Femmes de Loi, Femmes d'Exception" need to become the platform to share experiences and aid in finding solutions at a local, national and even transborder level, as time evolves.
Indian women are underrepresented in the law professions
Have a look at the very interesting article below
Soni Mishra,  "The Sexist Bar", The Week, Nov. 13, 2016
http://www.theweek.in/theweek/cover/gender-discrimination-in-judiciary.html?fb_comment_id=958691684232353_960869840681204#f3a996a74e2eb2c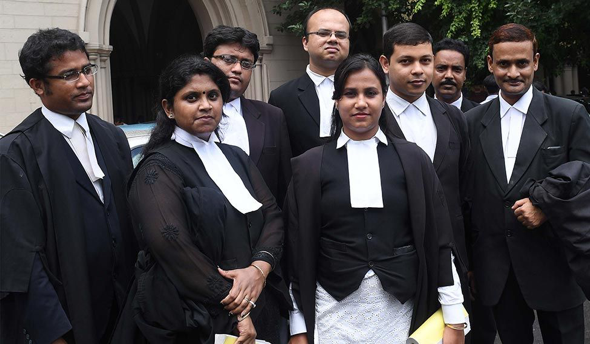 60,000 lawyers are registered at the Bar Council of New Delhi. The proportion of women is very low compared, for instance, to the one of women in French Bars.
As of November 2016, there have been only 12 senior women advocates and 10 to 15% of 1,700,000 advocates enrolled with bar councils are women (=> 170,000 to 255,000)[5]
As of December 2016, there were 69 women judges out of 652 in the High Courts, which represent only 10.58% (Source: Dec 2016 discussions in the Lok Sabha; lower house of Parliament).
In the Supreme Court there was only 1 woman judge, while total working strength is 24 judges (Source: Ibid).
In 2015, 84,880 girls joined law courses as opposed to 194,409 boys. The joining rate is 88% increase over statistics in 2014 where 45,956 girls joined legal coursework (Source: All India Survey on Higher Studies 2014-15).
Key dates and figures in the history of Indian women's rights
1951 : Indian women are granted the right to vote
1966 : Indira GANDHI becomes Prime Minister of India
1989 : Fathima BEEVI becomes the first Judge seating in the Indian Supreme Court
2007 : Pratibha PATIL becomes the first woman President of India
2010 : the Women's Reservation Bill reserves 33 %  seats to women in the Indian Parliament
2016 :  only 12% women seat in Parliament
 (source http://data.worldbank.org/indicator/SG.GEN.PARL.ZS)
---
[1] http://www.silf.org.in/News/239/Priti-Suri-given–Mayre-Rasmussen-Award-.htm
[2] See statistics at the end of the interview "Indian women are underrepresented in the law professions"
[3] https://www.theguardian.com/world/2017/jul/23/lipstick-uner-my-burkha-release-hailed-as-victory-for-indian-women
[4] http://sowlindia.com : a platform for Indian women lawyers to connect on issues relating to women lawyers and the workplace: hurdles faced by women in becoming partners in law firms, general counsel of large companies, and senior advocates in the High Courts and Supreme Courts.
[5] Source: Soni Mishra,  "The Sexist Bar", The Week, Nov. 13, 2016
http://www.theweek.in/theweek/cover/gender-discrimination-in-judiciary.html?fb_comment_id=958691684232353_960869840681204#f3a996a74e2eb2c